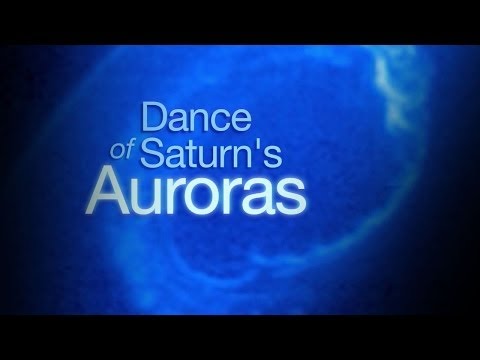 Auroras are one of the most beautiful natural phenomena on Earth, but they can be found on other planets in the solar system as well, notably the gas giants. New photos and video were released today, February 11, 2014, of just such displays on Saturn, which is already well known of course for its stunning rings and hexagonal bands of clouds at its north pole.
The auroras at Saturn's north pole were seen by the orbiting Cassini spacecraft as well as the Hubble Space Telescope and viewed in infrared, visible-light and ultraviolet wavelengths.
There's no guarantee you will always see Saturn's light displays, as Jonathan Nichols of the University of Leicester in England explained:
"Saturn's auroras can be fickle – you may see fireworks, you may see nothing. In 2013, we were treated to a veritable smorgasbord of dancing auroras, from steadily shining rings to super-fast bursts of light shooting across the pole."
"This is our best look yet at the rapidly changing patterns of auroral emission," said Wayne Pryor, a Cassini co-investigator at Central Arizona College in Coolidge, Ariz. "Some bright spots come and go from image to image. Other bright features persist and rotate around the pole, but at a rate slower than Saturn's rotation."
The images were initially taken last April and May in 2013, and show changing patterns of light down to a scale of a few hundred kilometres / miles, pretty good for a planet as large as Saturn.
Like on Earth, the auroras form as charged particles coming from the Sun interact with Saturn's atmosphere. One interesting difference is in colour – while Earth's auroras tend to be green at the bottom and red at the top, Saturn's are red at the bottom and purple at the top. That difference is because because Earth's auroras are dominated by nitrogen and oxygen molecules, while Saturn's are dominated by hydrogen molecules.
While there is of course much scientific interest in these Saturnian light displays, they are also simply another wonderful planetary phenomena to be watched and enjoyed.
Other versions of the video of Saturn's auroras can be seen here.
This article was first published on Examiner.com.
Want more? Follow TMJ on Twitter, Facebook, Google+, LinkedIn, Pinterest and Instagram or
subscribe by rss or email to get the latest blog posts and other space news.